This Limited Edition Dogs2Vets Otis Elite® boasts the same top of the line clean as the original but with the added bonus of 4 Otis Ripcords® and a 1 in 250 chance to win one hell of a grand prize valued at over $4,000!. Only 250 kits will be available so get yours before they run out!
Your purchase of the Limited Edition Dogs2Vets Otis Elite® acts as a donation to Clear Path for Veterans and their Dogs2Vets program that focuses on matching veterans in need with support dogs.
About the Limited Edition Dogs2Vets Otis Elite®:
Made in the USA and built to last, the Otis Elite® is a must-have addition to any collection. The Otis Elite® delivers top notch performance and durability to the avid gun user by ensuring a proper Breech-to-Muzzle® cleaning experience unique to the Otis® Brand. This universal gun cleaning kit comes complete with over 60 components for all rifles, pistols, shotguns and inline muzzleloaders, including a full Tactical cleaning kit all contained in a lightweight, portable case. Also includes 9mm, 5.56mm, .30cal, and 12ga Ripcords®.
Details:
Cleans all rifles/pistols/shotguns/inline muzzleloaders with 100% cotton 2" & 3" patches, 3 slotted tips & 2 patch savers®
16 firearm specific bronze bore brushes with size marked on brush stem (.17, .22 limited breech, .22/.223, .243-.260, .270/7mm, .30-06/.300/30-30/.308, .338-.35, .357-38cal/9mm, .40/10mm, .44/.45, .50cal, .410ga, 28ga, 20ga, 16ga, 12/10ga)
9mm, 5.56mm, .30cal, and 12ga Ripcords® for quick, one-pass cleanings of our most popular calibers
8", 12" and 36" aircraft grade Memory-Flex® cables and thread connector for proper Breech-to-Muzzle® cleaning
Small & large obstruction removers knock out mud, snow, stuck casings and double as a t-handle base for included t-handle; small t-handle & stud included for small caliber cleaning
.223cal/5.56mm chamber brush, pin punch, end brush, straight pick, locking lug scraper, scraper, short AP brush, double end AP brush and male & female rod for more precise cleaning
Lens tissue, lens spray, lens brush and lens cloth for optics care
Also includes microfiber gun cloth, chamber flag, (2) 0.5 fl.oz. Bio-CLP & instruction manual
Complete Tactical cleaning kit in compact soft pack cases included with 6 brushes, 3 cables, 2" & 3" patches, 0.5 fl.oz. Bio-CLP, chamber flag
All items packed neatly in a 15 1/4" x 8 3/4" x 4 1/2" nylon bag with carry handle
No Nonsense Warranty
Made in the USA
Here's how it works:
1.) Buy a kit
2.) Your purchase acts as a donation to Clear Path for Veterans Dogs2Vets Program to help a veteran in need of a service dog.
3.) Be entered to win the grand prize!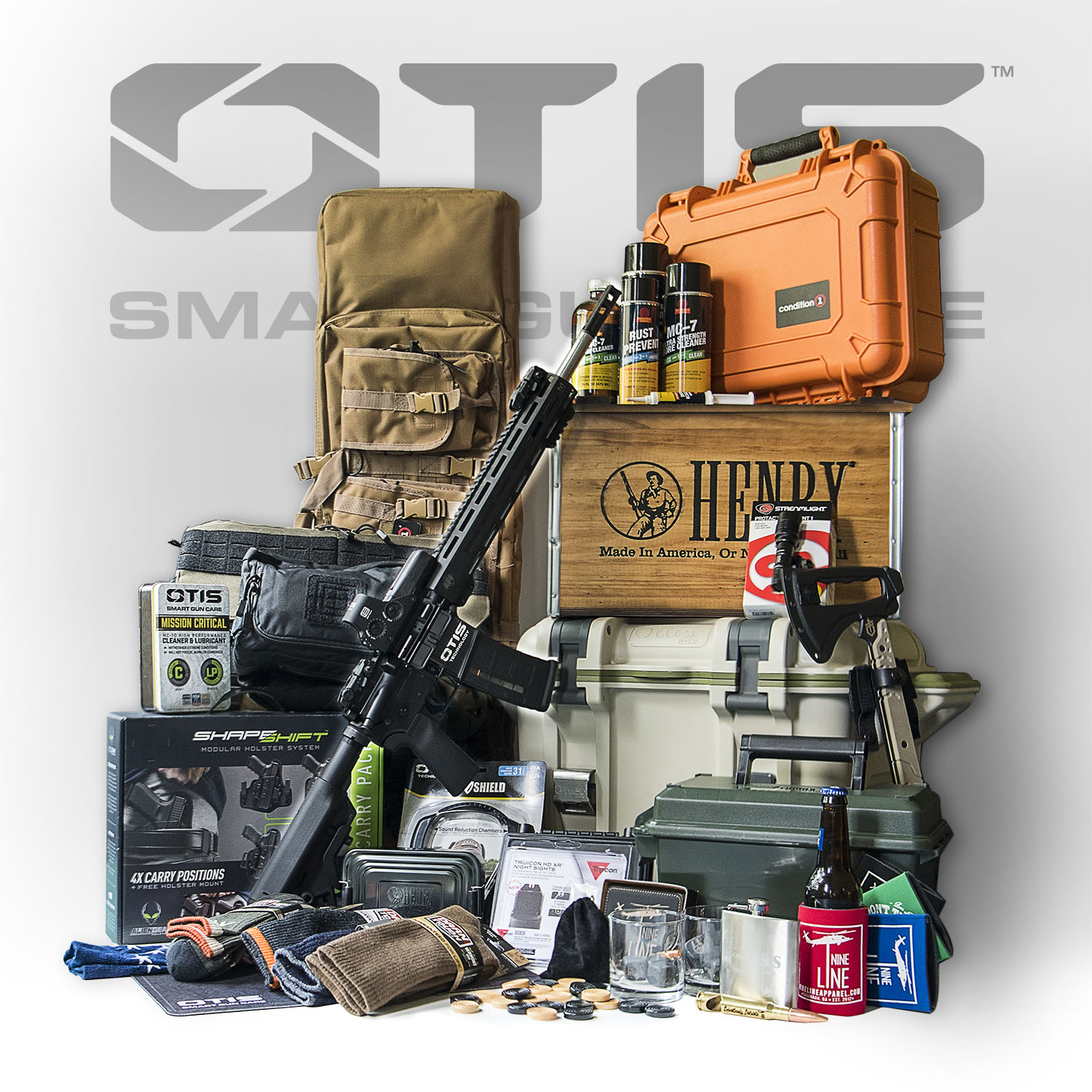 The Giveaway: Purchase of a kit buys you a 1/250 chance to win one hell of a prize including....
Condition1 CONDITION 1 Rebel- 42″ Tactical Rifle bag and 17″ Hard Case Trunk
Rocky Boots Gift Card for pair of boots of your choice
Alex Pro Rifles APF Carbine Rifle 5.56mm
Streamlight Protac Rail Mount 1
EOTECH Holographic Weapon Sight Model 512.A65
Henry Rifles Henry Checkerboard Box, Henry Repeating Survival Kit, Mug, Steel Targets and Ammo Box
Nine Line Apparel Ammo Cave Can and $50 Gift Card
Alien Gear Holsters ShapeShift Holster Kit, pick your model
OtterBox Venture 25 Cooler
Shooter's Choice Gun Cleaning Bundle
Darn Tough Merino Wool Socks
Aguila Ammo 500 5.56mmx45mm FMJ
Trijicon Iron Sights, pick your model
5.11 5.11 Rush Delivery Lima Bag and 2-Banger Bag
Gerber Downrange Tomahawk

Need more info? Check out our Terms and Conditions.