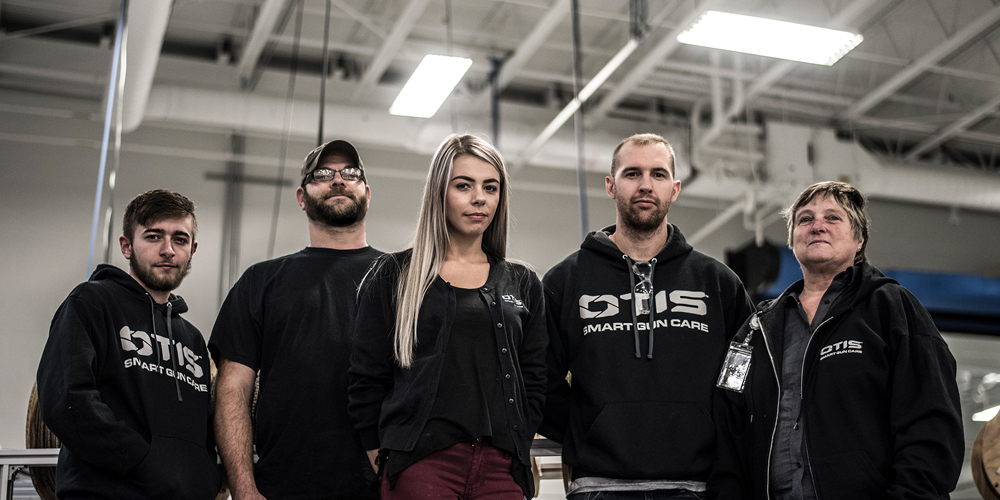 Otis Technology is known for manufacturing the most advanced gun cleaning systems and accessories available. We're proudly made in the USA, with our headquarters in Lyons Falls, NY and our research & development facility in Phoenix, NY.
We know the reputation and integrity of our company rests on the quality of our product and it's the care and dedication of our employees that ensure every part and piece meets or exceeds our quality standards.
Otis employees truly enjoy the culture of our organization – a place where co-workers become friends. If you are a self-motivated individual with the drive for success and continued learning, we encourage you to check out the openings below.
Think you might be Otis material? Click here to get a better feel for who we are and what life at Otis is like.
Current Openings
Social Media Marketing Intern
Basic Function:
Otis is looking for an enthusiastic social media marketing intern to join our marketing department and assist our growing team! The ideal candidate will possess knowledge of the digital media landscape, including various social media sites with the ability to dedicate between 10-20 hours a week to this position. Interns will be responsible for contributing to website projects and promotions, assist with social media scheduling and community management, monitoring and posting on blogs and social networks, and participating in online outreach and promotion. Those looking to gain valuable online media experience with an established organization are encouraged to apply.
Responsibilities:
Work with the on-site marketing team to create and implement social media campaigns
Develop content calendars on a weekly and monthly basis for the brand
Monitor analytics with marketing team to identify viable ideas
Create engaging social media content
Provide support to our marketing team
Qualifications:
Must be a student pursuing a degree in marketing, communications, business or related field
Interest in social media/marketing career path
Excellent oral and written communication skills
In-depth working knowledge of Facebook, Twitter, Instagram, YouTube, and Google+
Previous course studies in social media analytics, including Google Analytics and Facebook Insights
Basic knowledge of Photoshop preferred but not required
Students will gain experience in the marketing field as they apply classroom theory to real world tasks and projects.
Part Time Associates
Basic Function:
Otis is looking for a team player who is punctual, reliable and very consistent. Works in a safe manner at all times and performs at a fast pace with minimum/no quality issues. Adapts to constant change with ease, can work well with all different types of personalities and people and always approaches work with a positive attitude. Communicates effectively both verbally and in writing, and can understand and follow basic direction.
Responsibilities:
Demonstrates safe work practices at all times
Always focuses on the quality of the product
Consistently demonstrates a high level of productivity
Embraces Lean Manufacturing concepts
Adheres to all Company policies and procedures
Maintains all required record-keeping and reports as necessary.
Quality Assurance Supervisor
Basic Function:
Oversee and direct all Quality Assurance activities for the Company. Serve as the Voice of the Customer and drive ownership of quality throughout the organization to ensure that we meet or exceed all customer requirements. Supervise the efficient implementation of quality standards, programs, and processes that help improve operating efficiencies by reducing or eliminating waste.
Responsibilities:
Supervise and develop the Quality Assurance Inspectors so that they are fully capable of meeting the needs of the production floor, including product / process audits, documentation, and issue resolution.
Effectively manage the Rejected Material process; provide timely feedback to the appropriate parties in regards to material status, actions required and / or actions taken.
Serve as the lead for the company's Corrective Action System – effectively investigate and address customer complaints / returns, initiate vendor corrective action requests and serves as the main point of contact, and drive the use of internal corrective actions to foster continuous improvement within Otis' processes.
Aid in the development and continuous improvement of Otis' Quality Management System. Coordinate development efforts to guarantee consistency across locations.
Review newly created and updated product drawings to ensure adherence to established specifications and standards.
Working with R&D and manufacturing, develop and recommend test or audit procedures for products, materials and processes.
Analyze and review new products, new raw materials, and product modifications to make certain they meet all the requirements of our customers and production processes, includes vendor visit participation.
Responsible for the timely and effective communication of all quality issues to the appropriate parties.
Ensure that all required raw material, work in process, and finished good inspections are completed in a timely manner.
Conduct random audits to evaluate adherence to product and process specifications, customer requirements, and standard work methods. Maintain records of all product and process specifications.
Help management personnel, specifically the Area Specialists, develop the necessary skills to serve as quality champions on the production floor.
Use all relevant gages to inspect parts and control.
Manage calibration schedule to ensure all processes have appropriate gages on hand, perform gage calibration audits and complete appropriate documentation.
Serve as lead for onsite customer visits relating to Otis products or processes (ex – audits, inspections).
Work effectively with other departments and participate as needed in customer and vendor site visits.
Utilize lean principles and other process improvement initiatives to help drive continuous improvement within the organization, especially within the Quality Management System.
Minimum Qualifications and Experience: (Education and Training)
BS degree preferred; or 5 years work experience in Quality
A minimum of 5 years of prior Quality Assurance experience
Lifting of boxes weighing up to 75 lbs may be required
Standing at inspection stations for long periods of time